Aluminum is manufactured from bauxite which is abundantly found in the Earth's crust. Bauxite is mined from regions along the equator and goes through a process in which the alumina is extracted. It is then smelted and mixed with other alloying elements and cast into aluminum billets or logs. This cast aluminum is the raw material used for the aluminum extrusion process.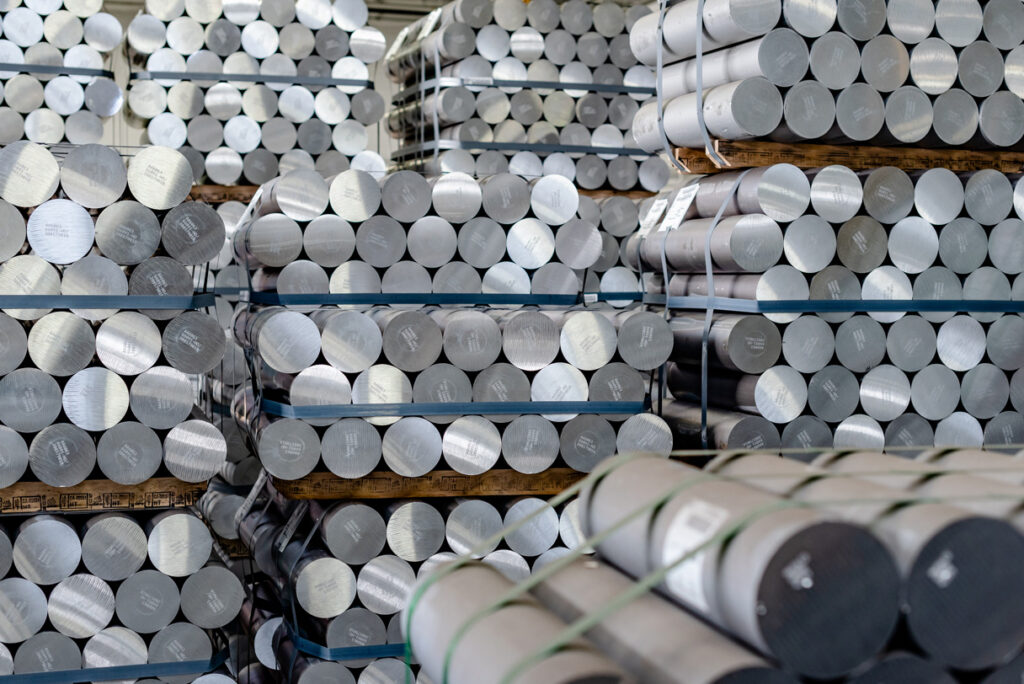 Aluminum alloys vary based on the composition of alloying elements that are added to the aluminum. The typical alloying elements are copper, magnesium, manganese, silicon, tin and zinc.
Fully recyclable
Lightweight
Strong
High strength-to-weight ratio
Resilient
Corrosion-resistant
Thermal conductivity
Electrically conducive
Non-magnetic
Non-sparking
Non-combustible
Cold strength / ductility at low temperatures
Reflective
ALMAG's available aluminum extrusion alloys
A multi-purpose alloy. Good corrosion resistance, finishing response, weldability, machinability, formability. Applications include windows, doors, curtain walls, signs, furniture, medium-strength frames, decorative trim, heatsinks and boats.
Great balance of extrudability and mechanical properties. Provides a good surface finish, readily welded, good corrosion resistance and forms well. Ideal for complex shapes in applications other than structural.
Bridges the gap between 6063 and 6005A & 6061 with higher mechanical properties than 6063 T6. Tighter tolerances possible over 6005A & 6061. Good finishing response.
Excellent extrudability and strength, low impact resistance, good finishing response, weldability, formability, and machinability. A high-strength alloy. More extrudable than 6061 and 6351. Effective applications include antennas, towers and machined parts.
Produces a bright, mirror-like, high quality finish, good machinability and formability. Ideal for picture frames, appliance trim, showcase, shower stalls, display systems and light reflectors.
Excellent strength, corrosion resistance and machinability, poor finishing response, good weldability and formability. A high-strength alloy used in trucks, trailers, towers, machined parts and marine applications.
High strength structural alloy. Provides good fatigue and impact resistance. Used in pipelines, highway barriers, trailers and road vehicles.
3003 is a general-purpose alloy with moderate strength, good workability, and good corrosion resistance. It can be cold worked but not heat treated. 
Good corrosion resistance, weldability, poor machinability, high formability, high electrical and thermal conductivity, non-heat-treatable. Typical applications are architectural and appliance trim and low-pressure tubing for carrying chemicals and foodstuffs.
**Aluminum Standards and Data 2009, published by The Aluminum Association.
**This data is intended for illustrative purposes only.
Other 1000 and 6000 series alloys not listed here may be available. Please contact your Sales Rep via extrusions@almag.com or 1.888.462.5624 for more details about alloys in the aluminum extrusion process.