Operating multiple presses with plants in both Canada and the US, we are ready to take on any project and deliver the highest quality extrusion solutions with some of the industry's shortest lead times.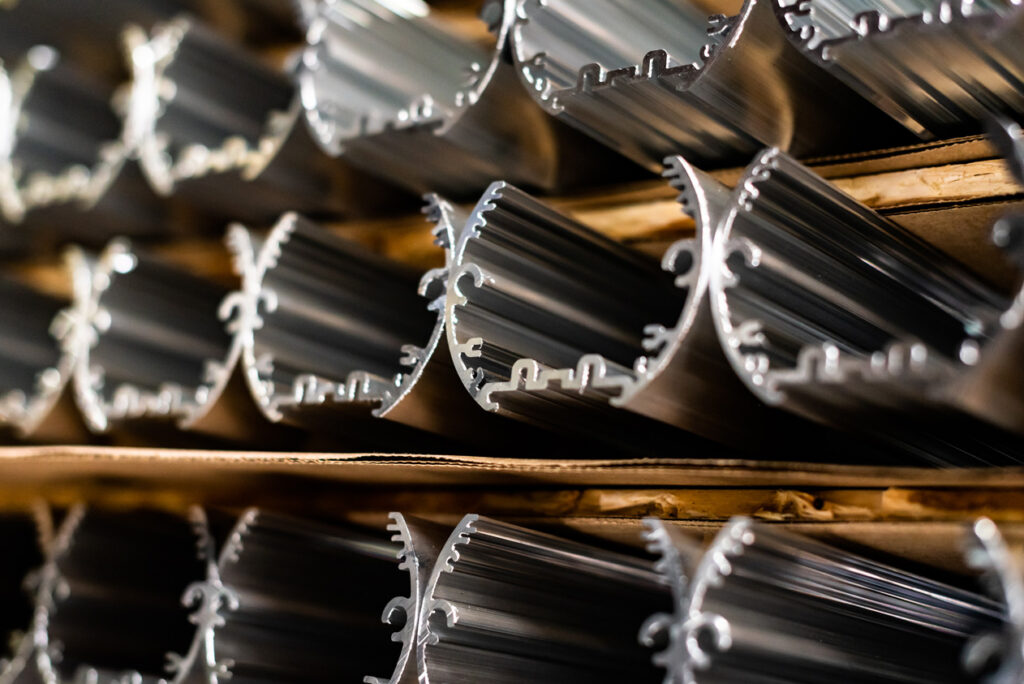 No matter how complicated or complex your design, ALMAG specializes in taking particularly difficult designs and turning them into reality.
Complex elements in aluminum extrusion design can include multiple hollows, specific geometry (such as asymmetrical profiles and high tongue ratio), transition in wall thickness, permanent and reusable snap/hinge features, as well as precision surfaces. Some of these features can be seen in our Inspire tool.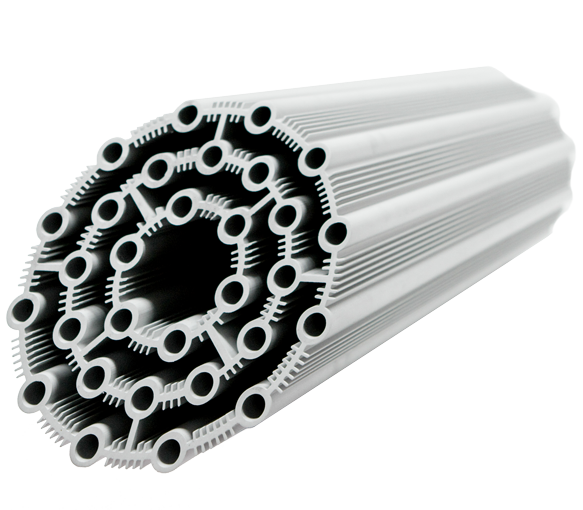 This particularly complex profile designed for a heat exchanger application has 39 hollows. This creates challenges from both tooling and manufacturing aspects as typical hollow applications range between 3-5 hollows.
Consistently attaining extrusions with thin walls as part of complex designs can be challenging and difficult, however, our expertise and capabilities allow us to provide our Customers with profiles that push the limits of wall thickness for their exact needs and specifications.
Being able to put the right amount of material where it is required is important to our Customer's design. Easily transitioning varying wall thickness allows for improved functionality while optimizing overall product weight and costs.

Extruding shapes that require a tight tolerance is one of our specialties and greatest strengths. We work with our Customers to design products with tight tolerance requirements to ensure assembled components fit together precisely. To guarantee the quality of our extrusions, and that our Customers receive product within the tight specification required, we utilize state-of-the-art optical scanning equipment to inspect the extrusion and compare it to the profile drawing.
Adhering to tight tolerances gives our Customers the advantage of repeatable assembly and processing, and allows for cost savings on other components.
The aluminum extrusion industry works towards a set of standard tolerances based on the geometry of the part, while ALMAG goes outside of those standard tolerances and in many cases holds tighter, precision tolerances, as defined by the Aluminum Association.
The ALMAG office staircase is a great example of extrusions that require precision tolerances throughout the long length in which they are being assembled.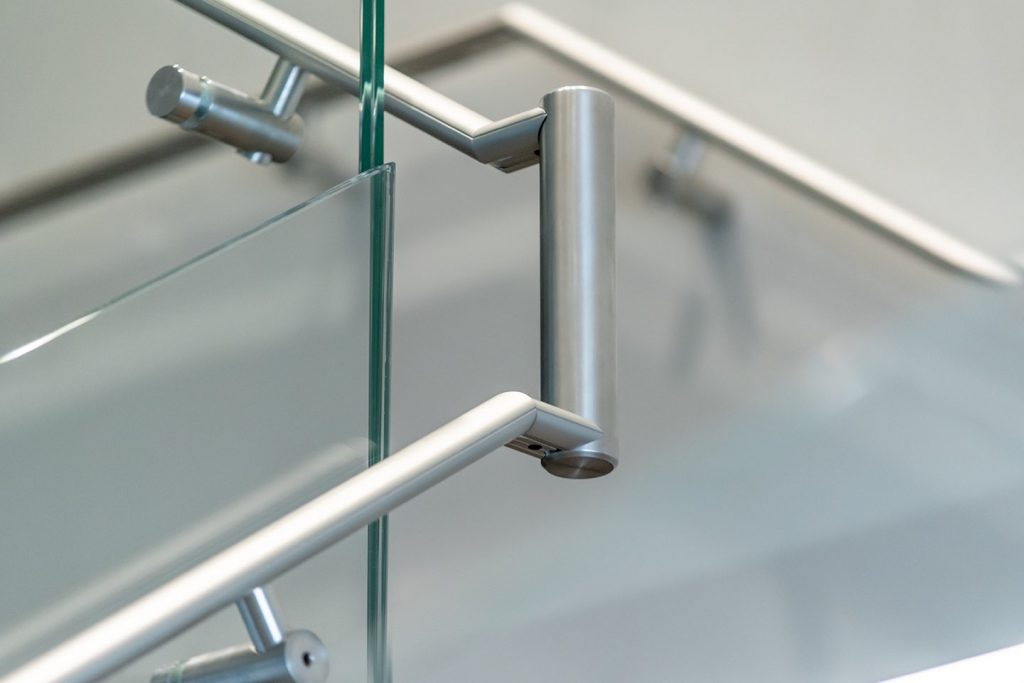 In addition to their functional aspects, we know that many extrusions require a high-visual finish for the products.
ALMAG works with a variety of Customers who have different visual requirements depending on the space the product is used in.
For example, a near-perfect finish in might be needed in a high-end chrome polish running board, or high-end speaker system.
ALMAG provides the best quality finishes and understands how important it is to deliver consistently on visual expectation. We pay special attention to the extrusion process in how the profile is oriented during manufacturing to protect the visual surface. This is carried through the downstream operations to ensure the visual criteria is met and maintained.
Light fixtures used in the ALMAG office are coated with a high-gloss black finish which enhances the overall look and feel of the workspace.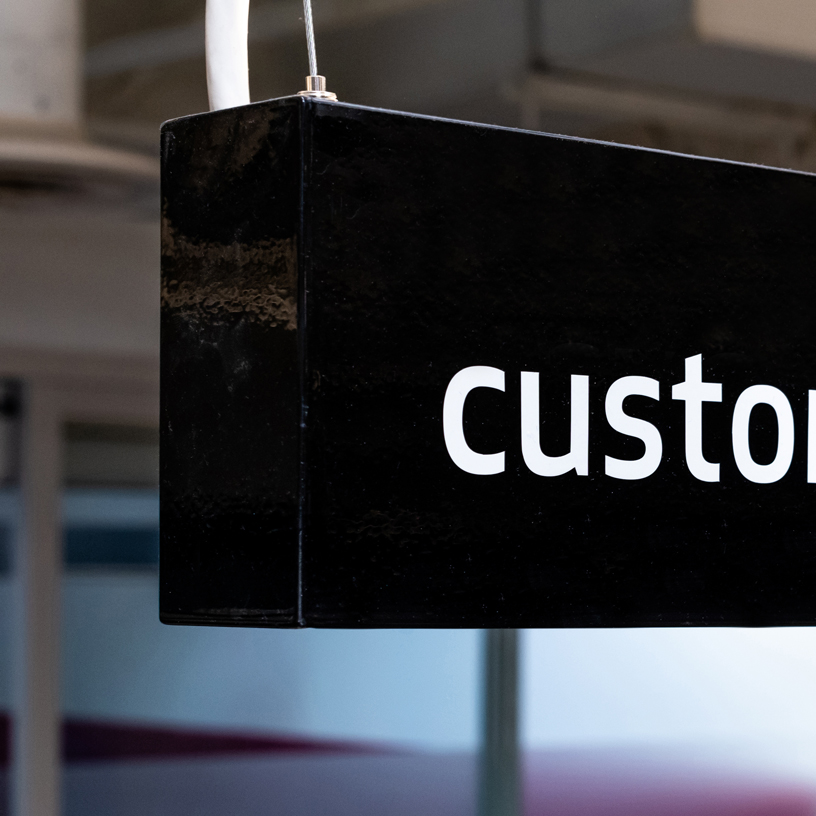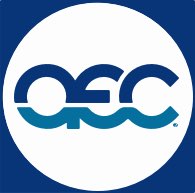 As new applications and markets emerge, we are dedicated to developing our capabilities and contributing to the evolution of our industry.
For over 60 years, ALMAG has been a key member of the Aluminum Extruders Council. We are dedicated to advancing the effective use of aluminum extrusion, driving innovation and sharing knowledge and best practices. Our passion and excellence has received industry recognition, including winning industry awards and being featured in industry publications.
Eager to find new challenges, we look forward to partnering with you so your next design can be made possible!
We understand that sometimes it takes a little inspiration to get started and see what's possible. ALMAG's Inspire tool shows a number of design elements, as well as fabrication and finishing processes, that can be used in a variety of applications. Explore the possibilities and inspire your next design.
Next Step: Fabricate
We're with you at every stage of the process.