Industrial design has a huge role in the success of any product, and at ALMAG we know that the finish and feel is important to designers and consumers alike. When we work with our Customers on their extrusion solution, right from the beginning of the journey we identify the visual surfaces and tailor our manufacturing and handling processes to protect them. We also work with our Customers to discern the best finishes for their extrusion based on the application and latest technologies and trends.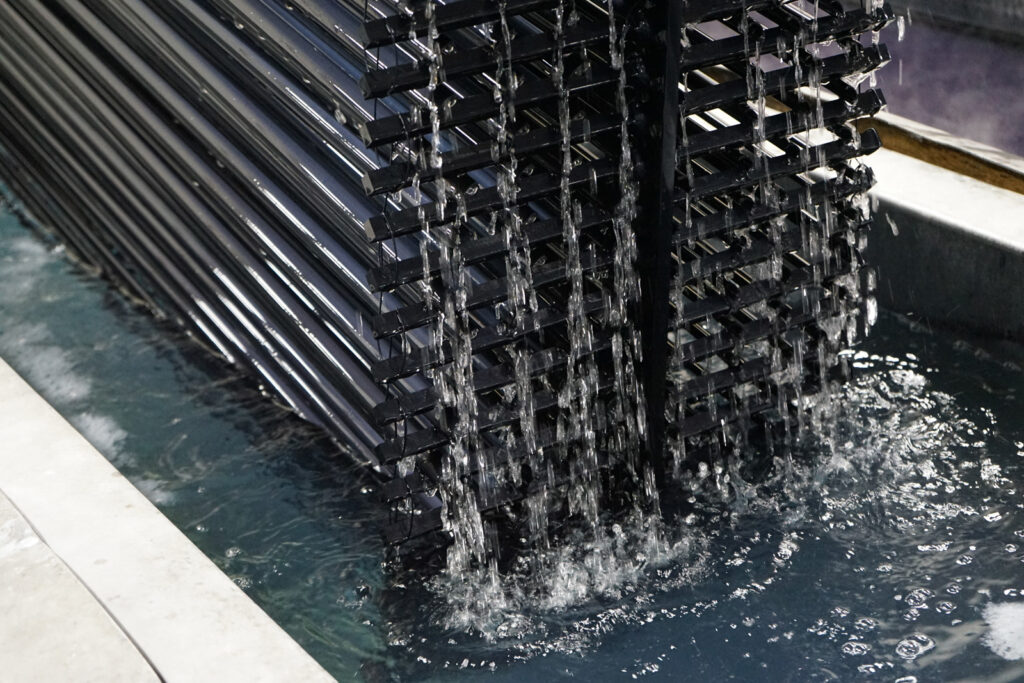 ALMAG has a wide variety of superior in-house finishing capabilities as well as trusted partners, ensuring the finished extrusions meet your specifications and bring your ideas to life.
Anodizing gives aluminum extrusions a finish that provides many benefits. This electrochemical process creates an oxide layer that is far thicker and more durable than what nature would produce on its own.
The anodized surface can accept a variety of colors, most of which are translucent. In addition to providing an aesthetically pleasing finish to high-visual components, anodizing finishes are long-lasting, scratch-resistant, non-conductive, weather-resistant and easy to clean. As a result, anodizing continues to be a popular finishing choice for a range of applications including architectural and marine products, furniture, lighting, and electronics.
The ALMAG office staircase has an acid etch anodized finish seen on both the stringer and railing components. Using a collaboratively developed pre-treatment on the parts prior to anodizing, both the look and feel of the finished parts was softened to achieve the final effect.
Powder coating is one of the most environmentally friendly finishing options as it contains near-zero VOCs, and 99% of over-spray powder can be recovered and reused. Additionally, the process does not pollute the environment with any hazardous waste.
Powder coating allows for a very attractive visual aesthetic to be achieved in many colors and textures. This type of finish is applied as a free-flowing dry powder that is then cured in an oven and does not involve mixing of solvents.
It offers an excellent finish and better performance in comparison to traditional painting or metal coating procedures. It not only provides a high-quality and very durable finish but also protects the surface of the extrusion.
Powder coating produces a high level finish that meets or exceeds industry visual surface requirements for the most demanding markets such automotive, furniture, and store fixtures.
ALMAG has worked with Customers developing and producing finished light bars for applications in the marine industry and for use on off-road vehicles.
The combination of the difficult extrusion along with the necessary full coating coverage requirements makes this a challenging application in which to powder coat. This application requires an exceptionally durable coating with complete coverage on the extrusion surface. Using our expertise in powder coating, ALMAG was successfully able to distribute uniform coverage onto the LED fixture's cooling fins.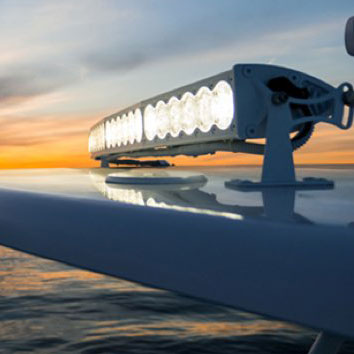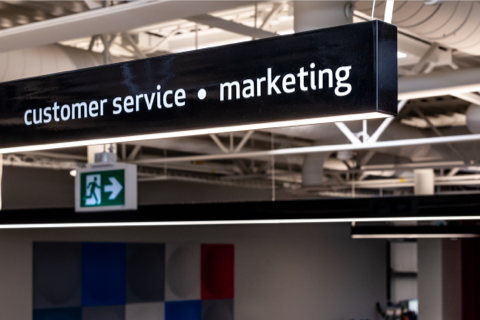 ALMAG has produced a number of powder coated light fixtures used in high-end and high-visual settings. These fixtures are often added to a space as an accent piece to distinguish the surroundings and environment.
Powder coating allows for modern, bright colors and textures that other forms of finishing are not able to offer with the same durability and benefits.
Some aluminum extrusion applications require a type of mechanical finishing that needs to be performed on the part before any additional finishing process can occur. These mechanical finishing options include brushing, graining, polishing, and bead-blasting. They are often used in applications where the visual requirements of the end use are specific to the finished product.
Due to the aesthetic effect that can be achieved on the visual surface, these types of finishes are often utilized as an element of industrial design. Office furniture and store fixtures are applications that use these finishing techniques to create different textures on the aluminum prior to the chosen coating application.
The ALMAG office staircase is also an example that demonstrates the use of a mechanical finish.
Other finishing services that ALMAG has to offer
Eager to find new challenges, we look forward to partnering with you so your next design can be made possible!
We understand that sometimes it takes a little inspiration to get started and see what's possible. ALMAG's Inspire tool shows a number of design elements, as well as fabrication and finishing processes, that can be used in a variety of applications. Explore the possibilities and inspire your next design.