In order to develop a functional and structurally sound yet attractive extruded aluminum floating staircase at ALMAG Aluminum Inc. in Brampton, ALMAG engineers collaborated with George Popovski in Toronto to develop a design that took into account aesthetics, but also applied extrusion process considerations.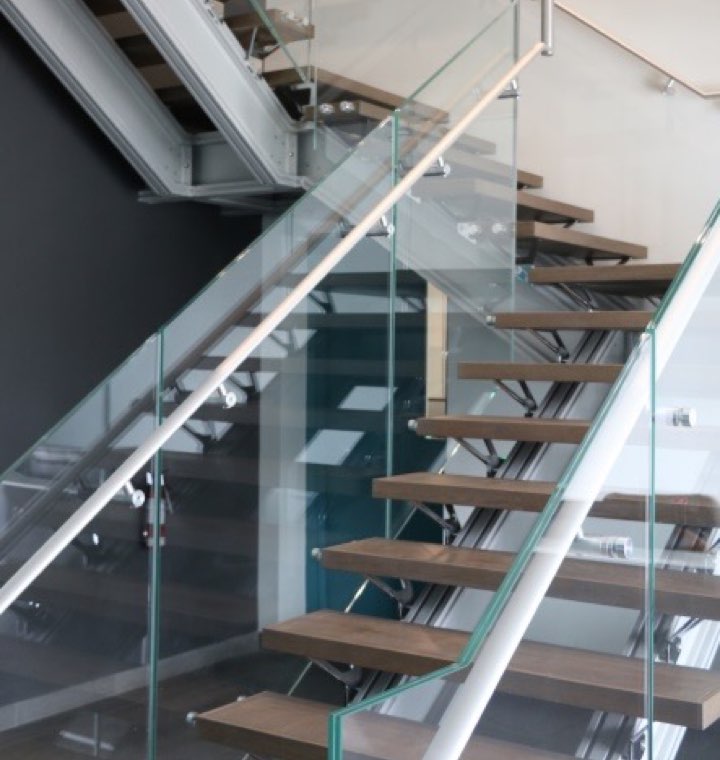 The collaboration between ALMAG and Popovski created an efficient team that was able to quickly narrow in on potential solutions. Recommending the best alloy option to Popovski enabled the engineering team to design using known mechanical properties of 6005A for each component. In addition, using cost-effective extrusion tooling allowed the team to trial the highly complex profiles at the press to confirm feasibility.
The staircase, which modernized ALMAG's headquarters office space and showcases their business, includes two unique extrusions using 6005A alloy designed to be used independently or in mixed configurations. The modular design features structural stringers made of three-piece slip-fit extrusion assemblies that connect to specifically designed channels that facilitate joining without fabrication, and allowed the extrusion to be designed for a universal fit before final assembly details were determined.  The tight-tolerance channels allow tapped inserts to be situated wherever needed for structural or accessory fastening. External brackets were custom designed for each joint style and the extruded aluminum railing, also using 6005A alloy, uses a similar joining approach.

The stairway assemblies were pre-built at the fabricator's facility, Piddi Design, increasing speed of installation on-site. ALMAG opted to clear anodize the components due to the hard, protective layer formed during the process, creating a durable, decorative finish that showcases the natural beauty of the aluminum.

View Similar Applications