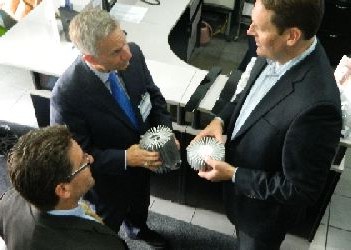 Minister of International Trade, Ed Fast, tours leading
Brampton manufacturer ALMAG Aluminum
Brampton, ON, July 31, 2013 – ALMAG Aluminum, currently celebrating its 60th anniversary, welcomed the Honourable Ed Fast, Minister of International Trade and Kyle Seeback, MP, Brampton West, for a tour of its facilities yesterday. The Brampton-based manufacturer has been growing steadily, hiring new staff and opened a fabrication and warehousing facility in Alabama in 2012 to more actively service the needs of some key clients in the U.S.
"On behalf of the Government of Canada, I'd like to congratulate ALMAG Aluminum on having recently celebrated its 60th Anniversary," said the Honourable Ed Fast, Minister of International Trade. "Our government will continue to support Canadian manufacturers through initiatives that will unleash their potential to innovate and compete in the global economy, which will benefit Canadian workers and families for years to come."
 (l-r) Kyle Seeback, MP, Brampton West and Minister of International Trade Ed Fast discuss Canadian innovation with ALMAG's Joe Jackman during a tour of the ALMAG Aluminum facilities in Brampton on July 30, 2013.  
"Our business has been growing consistently both in Canada and internationally and it was a tremendous opportunity to share our experiences with the Minister, "says Joe Jackman, vice-president of sales and marketing, ALMAG Aluminum. "Part of our success is due to the fact that we actively seek to work on complex, custom-designed projects that other extruders say can't be done. That has become a bit of a calling card and has resulted in our servicing large companies in multiple industries, including automotive, lighting, office systems, store fixtures  and healthcare."
At the same time, ALMAG Aluminum is constantly educating its customers and plays a leadership role in helping customers convert a vision for a part into reality. For example, ALMAG has worked closely with automotive manufacturers and their partners to help them understand how they can best utilize lightweight aluminum instead of steel to design cars that will meet aggressive, future fuel saving targets.
ALMAG Aluminum (www.almag.com ) is a world-leader in the manufacturing of custom aluminum extrusions, manufacturing custom parts and components for multiple industries, including the automotive, lighting, office furniture and systems and medical equipment industries. ALMAG manufactures components through a process known as extrusion, where aluminum is pushed through custom-made dies to create intricate and complex parts. ALMAG Aluminum provides expertise in all areas of aluminum extrusion, from idea conception and design assistance to complete fabrication and finished parts. With unique problem-solving abilities across a wide range of industries, ALMAG believes if customers can imagine a part, ALMAG can build it. ALMAG prides itself on delivering superior products in a timely manner to satisfy its customers through teamwork and a vibrant and healthy work environment. ALMAG operates facilities in Brampton, ON, Canada and Ardmore, Alabama, and is currently celebrating its 60th anniversary.
For more information, contact:
Hugh Black
Schembri group for ALMAG Aluminum
905-361-7410 x367
hugh@Schembrigroup.com