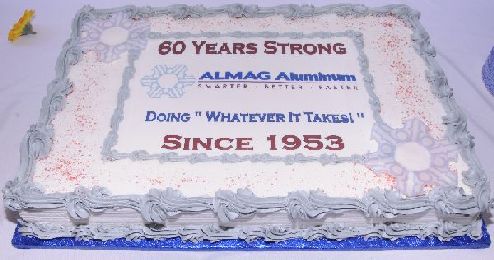 ALMAG has had quite a bit of activity in the month of May!
Excited about turning 60, we had a chance to celebrate with a number of Customers, Suppliers and ALMAG Alumni May 30th.
The highlight of the event was a presentation by Michael "Pinball" Clemons. Michael had a high energy, meaningful message, focusing on our Core Values and reminding us to say "I got your back!", supporting one another in the workplace. We all left with a spring in our step and a positive outlook!
Announced at the event is ALMAG's commitment to support local hospitals with a $60,000 donation over the next 3 years. President, Bob Peacock, is committed to contributing to the community, a responsibility, he says, we should all share.
To read more about the event, please visit http://www.bramptonguardian.com/news-story/3256094-almag-marks-60-years-with-cash-donation/ .
Also in May was ALMAG's support of the SickKids hospital Healthy and Happy Campaign. In honour of our 60th, ALMAG pledged to donate $60 for each new die ordered in May. Thanks to all our Customers for their new tooling orders! The result was close to $5,000 for the campaign!
It's been a very busy, very positive month. If there is a lesson to be learned from it all, it's that we're all in this together. Building relationships with Customers, Suppliers and Community are all key elements of ALMAG's 60 years of success and this May was the month where we were able to share our appreciation to everyone for having an impact…thank you!