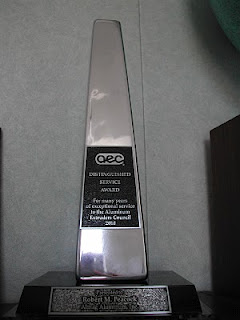 Each year, the Aluminum Extruder's Council (AEC) presents The Distinguished Service Award recognizing the contribution of volunteers who, over their years of service, have had an impact on the AEC and the aluminum extrusion industry. It is the highest honour awarded by the AEC. We're proud to say that this year's recipient was our very own President, Bob Peacock.
The AEC is an international association promoting the benefits and uses of aluminum extrusions. Members are able to discuss challenges and opportunities, working to enhance the growth of the industry.
Bob has been an active member of the AEC for many years, including time spent as Chair of the council.
Congratulations Bob!