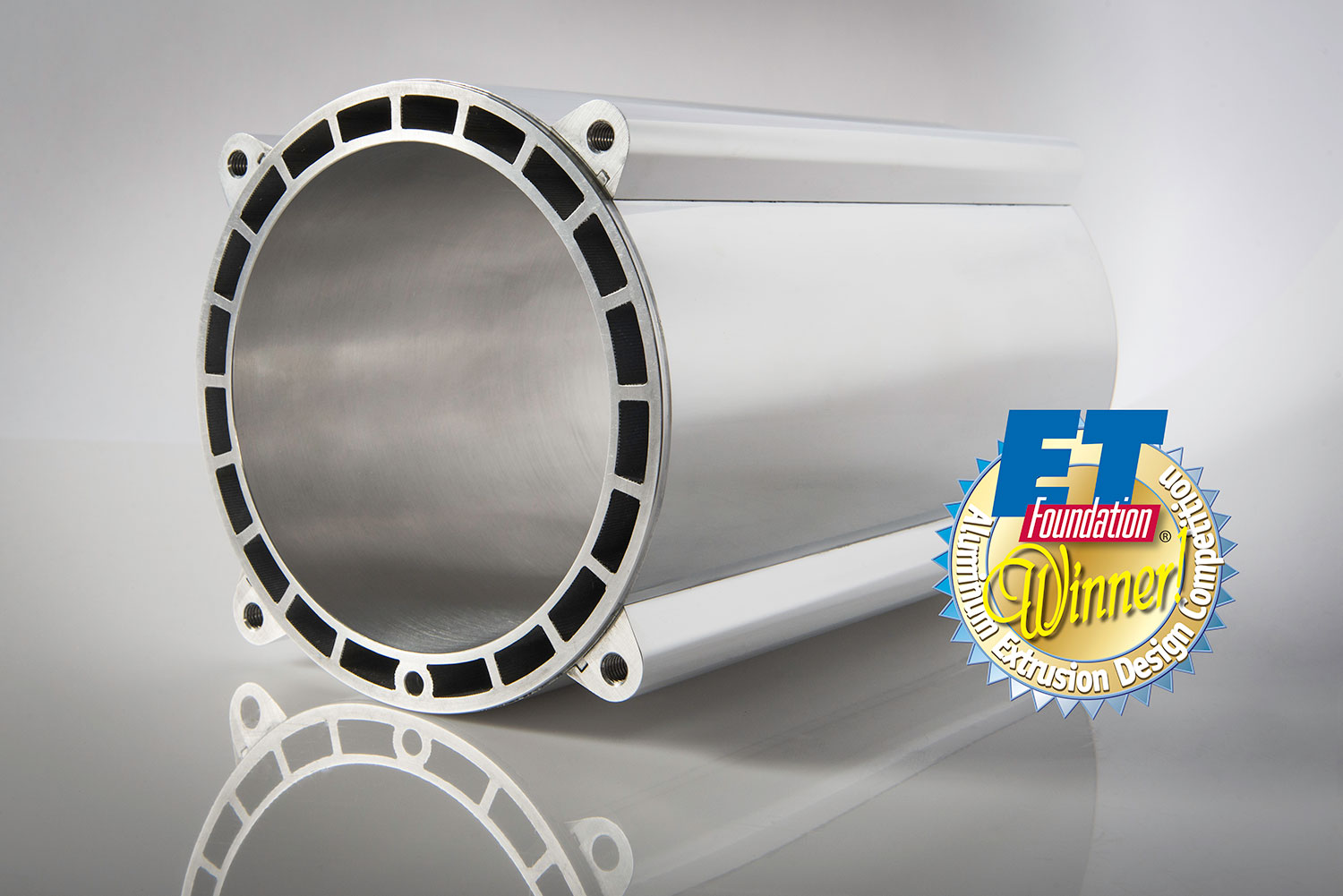 ALMAG is proud to announce winning the Grand Prize in the Professional Design Competition at the 2016 International Aluminum Extrusion Technology Seminar & Exposition (ET) held at the Hyatt Regency in downtown Chicago. ET is hosted by the Aluminum Extruders Council (AEC) every 4 years and is a comprehensive event that features a robust technical program addressing every facet of the aluminum extrusion industry.
The winning Aluminum Extrusion entry was jointly submitted by ALMAG and Wrightspeed Powertrains. The Wrightspeed Route™ is a 6.5 inch diameter, 22 hollow complex aluminum extruded Electric Motor Housing that drives delivery trucks, city buses, refuse trucks, and other applications with frequent stopping and starting.
"The electric motor housing highlights many of the benefits of Aluminum Extrusion. The EV industry is rapidly growing with new CAFÉ requirements around the corner. Finding an EV motor housing that is lightweight, highly engineered, and easy to fabricate and assemble while providing ideal heat dissipation was the solution for Wrightspeed" said Rob Nelson, Director of Sales & Marketing at ALMAG Aluminum.
This cylindrical motor housing incorporates many features into its primary function. The 20 hollows surrounding the part allow coolant to flow through the body of the housing providing optimal cooling. With coolant flowing through the 20 hollows, ALMAG suggested that serrations be added to the inside diameters of the port for an additional surface area increase of 12%. This also created a more turbulent flow which contributed to more heat dissipation. 6063 T65 alloy was selected as it provides and optimal balance of machinability and extrudability. The ID of the large center hollow is honed to precisely fit the electric motor assembly. Watch the part in action.
Along with the Grand Prize win at this year's ET Design Competition, the extrusion profile also made the cover of Light Metal Age. Read More.