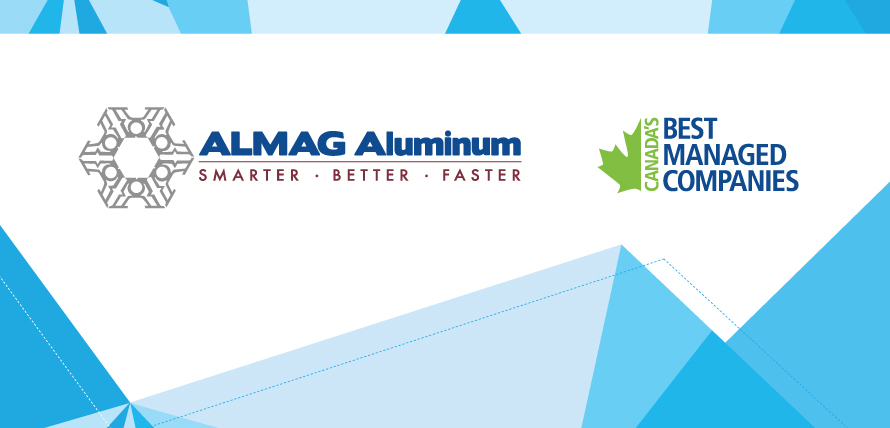 For Immediate Release
Brampton, ON – March 9, 2017 –  Almag Aluminum was honoured with the prestigious Canada's Best Managed Companies designation. The 2017 Best Managed program recognizes the best-in-class of Canadian-owned and managed companies with revenues over $15 million demonstrating strategy, capability and commitment to achieve sustainable growth.
"It's much more than just financial performance," said Peter Brown, Partner, Deloitte and Co-Leader, Canada's Best Managed Companies program. "The ingredients to success also include overall business performance and sustained growth. It takes dedication and commitment from the entire organization."
ALMAG has built a 64 year long reputation of striving to be the best employer for our employees, the best supplier for our customers and the best customer for our suppliers. These 3 stakeholder groups, working together, have created many "that can't be done" products that have enabled all 3 to prosper and grow together earning this outstanding recognition." A legacy built on strong values of Integrity, Innovation and Quality are at the core of all we do.
"I am thrilled and honoured, once again, to receive this recognition on behalf of our Employees, our Suppliers and our Customers.  The highly regarded Canada's Best Managed Companies endorsement is one that I energetically strive to maintain as it conveys to those inside and outside of ALMAG the kind of organization we are.  I am very proud to be leading a Team who, working together, have made ALMAG an Industry Leader."  Bob Peacock, President of Almag Aluminum.
About Canada's Best Managed Companies
Canada's Best Managed Companies continues to be the mark of excellence for Canadian-owned and managed companies with revenues over $15 million. Every year since the launch of the program in 1993, hundreds of entrepreneurial companies have competed for this designation in a rigorous and independent process that evaluates their management skills and practices. Program sponsors are Deloitte, CIBC, Canadian Business, Smith School of Business and MacKay CEO Forums. For further information, visit www.bestmanagedcompanies.ca.
About ALMAG Aluminum Inc. (almag.com)
ALMAG Aluminum has built a reputation as an industry leader in extruding high-visual, tight tolerance, thin-walled, and complex aluminum extrusions. ALMAG provides solutions to some of the most complex designs by combining its skills, knowledge and experience with engineering to deliver best in class, quality solutions. ALMAG is focused on four pillars of service; Design, Extrude, Fabricate and Finish to provide Customers with a "Smarter, Better and Faster" solution, making ALMAG your single-source supplier for any aluminum extrusion project.
For further information, please contact:
Lisa Nicolia, Marketing Coordinator, ALMAG Aluminum Inc.
e. lisa.nicolia@almag.com
t. 888.457.9480 x265